Mom & Baby Care
Patchy Scalp Of Babies: Know How To Deal With It
3 min read
By Apollo 24|7, Published on- 22 September 2022, Updated on - 19 November 2022
Does your baby have rough and scaly patches on its head? Are you worried if these patches are causing an itch or discomfort to your baby? Let's address these questions. Cradle cap, also known as congenital seborrheic dermatitis, is a common skin condition seen in newborn babies that results in the formation of oily and rough patches on their scalp. It is often regarded as a form of dandruff in babies. Thankfully, the cradle cap is entirely harmless. In most cases, it clears up on its own as the baby turns 12 months old.
Causes of Cradle Cap
The exact cause of cradle caps in newborns is not known. However, several theories have been associated with it, some of which include:
Many

studies

suggest that hormones that pass down from the mother to the baby may be a contributing cause. These hormones can accelerate the production of sebum in the glands as well as hair follicles, resulting in scaly patches on the scalp.

Alternatively, a cradle cap may be caused due to a fungal infection. This infection may result from the antibiotics taken by the mother before childbirth. At times, antibiotics destroy helpful bacteria that prevent such conditions.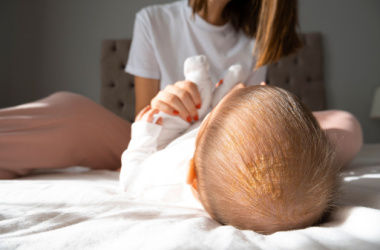 It is important to note that cradle cap isn't contagious, i.e., it can't be passed from one person to another.
Types of Cradle Caps
There are three major types of cradle caps: seborrheic dermatitis, discoid eczema, and atopic dermatitis.
Seborrheic dermatitis

usually causes scaly patches on the diaper area, face, neck, and trunk of the baby.

Discoid eczema is caused by an autoimmune reaction, which causes the skin cells to grow too quickly.

Atopic dermatitis may be caused by a hypersensitive immune system reaction to an allergen like dairy products or eggs.
Tips for Healing Cradle Cap
A cradle cap is quite common in infants. Here are some tips that may help treat the condition:
Pat gently: Massage the scalp with mild baby shampoo and gently pat from the centre using fingertips or a cotton ball. Rinse thoroughly and repeat if necessary. The hair will usually come out in small clumps without any need for picking or pulling. Avoid scratching as this may cause infection.

Rinse well: Use warm water only while washing the scalp because hot water can make the skin drier, causing discomfort.

Apply mineral oil

: Apply mineral oil to the scalp before bedtime each night and leave it on overnight. You might see results within a couple of weeks, depending on how long your baby has had the cradle cap.

Encourage good hygiene: Keep their head uncovered as much as possible to allow air circulation and limit sweating to improve the conditions.

Change clothes: Sweating can worsen the symptoms of cradle cap, therefore, change the clothes of the baby as soon as they get soiled.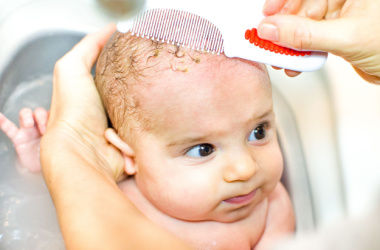 While a cradle cap isn't dangerous, it may lead to symptoms such as skin flakes or damage to the hair follicles. If the problem continues for more than three months, you should consult your doctor immediately as they may recommend other cradle cap treatments such as topical medications or steroid cream to help reduce redness and flaking.
If you need expert advice,
Consult an Apollo Paediatrician
Medically reviewed by Dr Sonia Bhatt.
Services
Buy Apollo Products

Online Consultations

Order Online Test
Mom & Baby Care
Leave Comment