Mom & Baby Care
Stomach Worms In Kids: Things Every Parent Must Know About Deworming
By Apollo 24|7, Published on- 29 August 2022, Updated on - 07 March 2023
Is your child acting fussy, not eating properly, and complaining of stomachache? It could be a case of a worm infection. Worm infections are fairly common and can affect anyone, young or old. Experts advise deworming to be done twice a year or every six months, beginning at the age of two. Deworming is a method that uses medication to get rid of intestinal parasites and other microbes. Unfortunately, even with the finest hygienic practices, worm infections can still occur, especially in children. Therefore, parents should be aware of this condition and know the ways to get rid of stomach worms in kids.
Importance of Deworming Kids
Deworming should be done at least once every six months for kids. All intestinal worms in kids are eliminated during deworming. Depending on the age of the child, the deworming medication can be given either in the form of tablets or syrups.
Worms that can develop in the intestines include tapeworms, roundworms, pinworms, and hookworms. These stomach worms in kids can develop and reproduce in the intestinal walls, resulting in a number of health problems. Early detection of the aforementioned intestinal worms in kids would aid in faster and more effective treatment of the child.
What Causes Stomach Worms In Kids?
Reasons for worm infection in children include:
Consuming unhealthy meal

Drinking contaminated water

Poor body hygiene

Unsanitary conditions

Eating half-cooked meat

Playing in soil and dirty surroundings

Catching infection from pets
What are the Symptoms of Worms In Kids?
Irritations or itching on the buttocks

Consistent pain in the stomach

Nausea or vomiting

Constipation or diarrhoea

Unexpected weight loss

Reduced appetite

Weakness and exhaustion

Bloody stool

Frequent urination

Anaemia

A burning feeling when urinating

How to Prevent Worm Infections in Your Child
Measures that may help prevent worm infections in children include:
Make sure your child washes their hands with water and soap before eating, after playing outside or after being around animals.

Make sure your child doesn't consume fruits, veggies or salads that haven't been washed.

Give your child only filtered or boiled water for drinking.

Advise your child to avoid sharing water bottles at school.

Never allow your child to consume undercooked meat.

Make sure your child is not playing outside barefoot.

Teach and inform your kid about proper swimming techniques.
Post-deworming Effects
The deworming kids procedure has hardly any negative side effects. However, if your child has a severe infection, they may experience dizziness, nausea, headaches, and vomiting for a short period. If the symptoms worsen or do not go away within 24 hours, consult a doctor.
Benefits of Deworming Kids
Thorough research has demonstrated that treating children with deworming has a substantial impact on their health, education, and way of life. Deworming:
Reduces the risk of anaemia and improves the absorption of nutrients.

Increases weight gain and growth.

Enhances physical, mental, and intellectual development.

Increases defence against other infections.

Encourages more frequent attendance at school.

Enhances kids' capacity to learn more effectively and participate more actively in class.
National Deworming Day 2022
The Ministry of Health & Family Welfare, Government of India (GoI), observes National Deworming Day (NDD) on the 10th of February every year in all states and UTs, followed by mop-up activities, to step up efforts to reduce infections among children in India. The event usually takes place on February 10 every year, however, those who miss their dose can get deworming treatment on February 14. Since it is a biennial cycle, the second deworming event takes place on August 8 with a mop-up on August 16.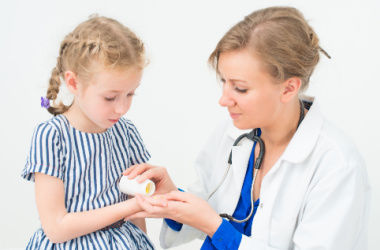 Deworming kids is crucial since it can improve your child's nutritional intake and control illnesses like anaemia or even diarrhoea. Additionally, it aids in lowering the incidence of worm infection in the neighbourhood. Deworming will also reduce the likelihood of your child getting admitted to the hospital due to gastrointestinal pain. If you have more questions,
Consult an Apollo Paediatrician
Medically reviewed by Dr Sonia Bhatt.
Services
Buy Apollo Products

Online Consultations

Order Online Test
Mom & Baby Care
Leave Comment