General Health
No Time For A Workout? Try This 10-Min Full Body Exercise
By Apollo 24|7, Published on- 15 March 2023
There's no one reason why most of us are running late in the morning. While we struggle to complete all the morning rituals, we often tend to skip the exercise part. Not anymore! We have a basic full-body workout that will train all your essential muscles without having to overwork yourself. In this article, we are going to discuss a full-body exercise that will maintain your fitness and will take no longer than 10 minutes. Let's begin!
1. Jumping jacks
A full minute of jumping jacks will warm you up the right way. It will work your calves, quads, glutes and upper back.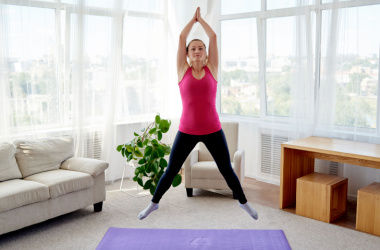 How to do it: Stand straight with an upright back, your feet together and your hands at the sides. Now, start jumping upwards, stretching your legs to the side and throwing your arms over your head. Do this in a single motion and then return to the original position. Keep repeating for a minute without bending your arms. Try to jump lightly instead of thumping on the floor.
2. Push-ups
Once done with the jumping jacks, try doing push-ups, it will help train your chest, shoulders, triceps, upper back and abs.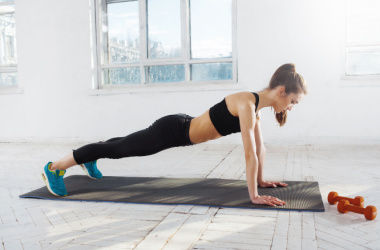 How to do it: Place your arms on the floor, directly aligned to your shoulders. Put your feet together and stretch out your legs backwards. Form a straight line keeping your body in a tense position. Use your arms to lower yourself to the floor and then push up. Keep repeating the process for at least a minute if you want good results. Make sure that your neck is in line with your spine.
3. Flutter kicks
Flutter kicks are a good way of training your abs, back and quads. They help in activating your hip-flexor muscles. Flutter kicks are also helpful in improving your heart rate and cardiovascular function.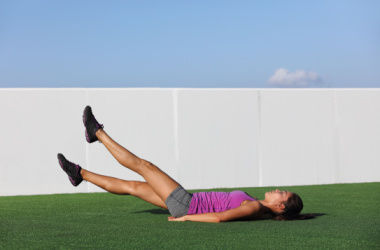 How to do it: Just lay down on your back with your hands under your hips. Raise your legs a few inches from the ground while keeping them straight. Now move one leg down while keeping the other one up. Keep reversing the process for at least a minute while keeping your back pressed to the ground at all times.
4. Hip-ups
Hip-ups are a good way of training your abs, hips and shoulders. Try doing this for a minute after you are done with your session of wall-ups or push-ups.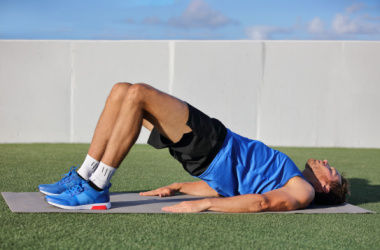 How to do it: Lie down with your back on the floor. Bend your knees and place your feet on the ground with your heels close to your hips. Keep your hands on the side with the palms facing the ground. Now raise your hips off the floor, upwards and squeeze the glutes. Now use your heels to get your hips back on the floor. Repeat this exercise for a minute or two.
5. Wall sits
Wall sits are a good way to end your 10-minute workout. It helps in reinforcing your hamstrings, quads, glutes and abs.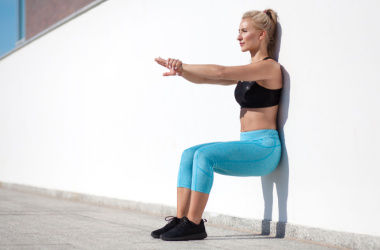 How to do it: Stand against a wall with your entire back touching it. Step one and a half feet forward while maintaining your back's contact with the wall. Lower your body in a way where your legs are bent at a 90° angle. Hold this position for a couple of minutes. Apart from muscular benefits, this exercise will also calm your muscles down.
Shorter instances of workouts can also be extremely effective in improving your overall fitness. If you are still confused about the exercises that you should incorporate into your schedule then you should seek your doctor's recommendation.
Consult Apollo's Expert Doctors
Medically reviewed by Dr Sonia Bhatt.
Services
Buy Apollo Products

Online Consultations

Order Online Test
General Health
Leave Comment
Services
Buy Apollo Products

Online Consultations

Order Online Test
Subscribe
Sign up for our free Health Library Daily Newsletter
Get doctor-approved health tips, news, and more.
Visual Stories
The Best Exercises for Controlling Blood Sugar Levels
Tap to continue exploring