COVID-19 Vaccines
Dosage interval of Covishield vaccine revised to 4 to 8 weeks
By Ministry of Health and Family Welfare - 23 March 2021
According to the recent data released by the Ministry of Health and Family Welfare (Government of India), the COVID-19 vaccination drive in India has completed 65 days. 3.75 crore beneficiaries have been vaccinated out of which 75 lakh beneficiaries have completed the two-dose schedule of vaccination 4-6 weeks apart as per the recommendation of the National Expert Group on Vaccine Administration for COVID-19 (NEGVAC).
In view of the emerging scientific evidence, the interval between two doses of a specific COVID-19 vaccine i.e. Covishield has been revisited by the National Technical Advisory Group of Immunization (NTAGI) and subsequently by the NEGVAC in its 20th meeting. During this meeting, the recommendation has been revised to provide the 2nd dose of Covishield at a 4-8 weeks' interval after the 1st dose instead of the earlier practised interval of 4-6 weeks.
The entire document can be found below: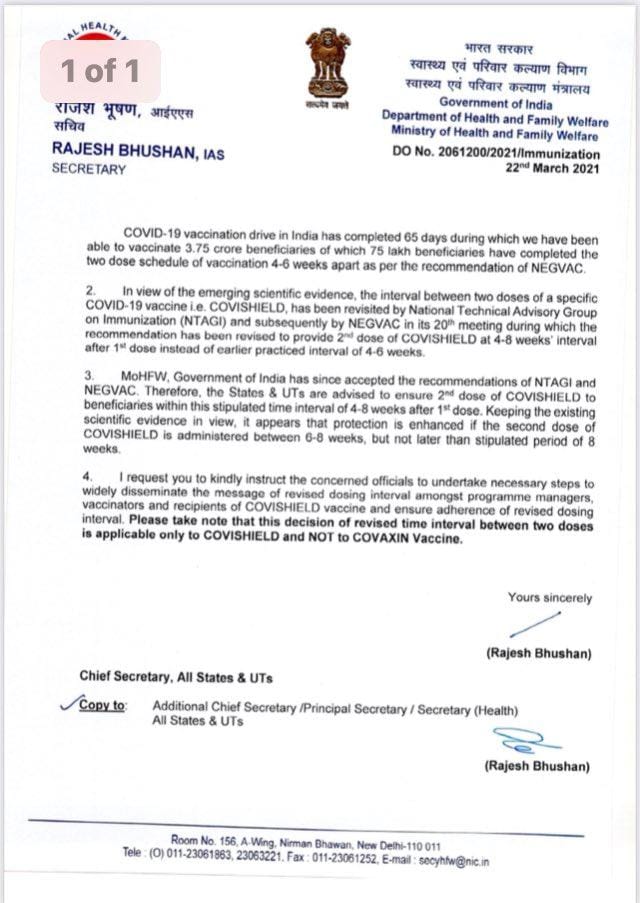 COVID-19 Vaccines
Leave Comment
Subscribe
Sign up for our free Health Library Daily Newsletter
Get doctor-approved health tips, news, and more.
Visual Stories
COVID-19 Factbox: All about vaccine efficacy
Tap to continue exploring