Diabetes Management
A Step-By-Step Guide To Using A Glucometer
By Apollo 24|7, Published on- 14 March 2023
Regular monitoring of blood sugar levels is a vital aspect of diabetes management. It can help you determine what kind of food and activities cause an increase in your blood sugar. It can also be beneficial in preventing any long-term complications. While you can get your blood sugar tested at a diagnostic lab, it can be quite inconvenient and expensive, especially if you have to do it frequently. This is where glucometers come in handy. A glucometer is a portable device that enables you to easily check your blood glucose levels at home. Read on to learn more about how to use a glucometer at home.
Supplies Required To Use A Glucometer
Before you start with the process of checking your blood sugar using a glucometer, make sure you have the necessary supplies within reach. These include:
Soap and water or an alcohol prep pad

A test strip

A lancing device with a new lancet

A notepad and pen to record results (in case your glucometer does not have the feature to store readings)
How To Use A Glucometer?
Every glucometer comes with its own instruction manual. However, these are some general steps you can follow to use almost all glucometers.
1. Clean your hand thoroughly using either soap and water or an alcohol prep pad. Make sure your skin dries completely before you begin as moisture can dilute the blood sample you take from your finger. Also, don't blow on the fingers to dry them as this can introduce germs.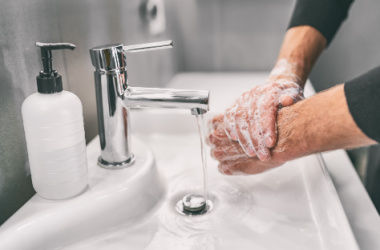 2. Turn your glucometer on by inserting a test strip. Check the glucometer's screen, which will alert you when it's time to add the blood sample to the strip.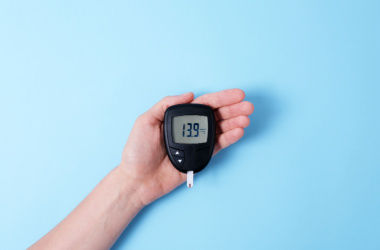 3. Pierce the side of your fingertip, right next to your fingernail using the lancing device. Piercing this spot hurts less than piercing the pad of your finger. Squeeze the pierced spot to produce an adequately-sized blood drop.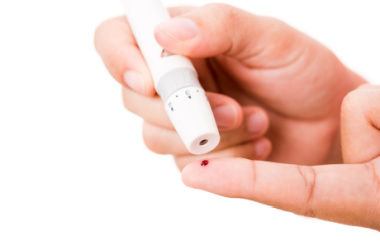 4. Place the blood sample on the test strip.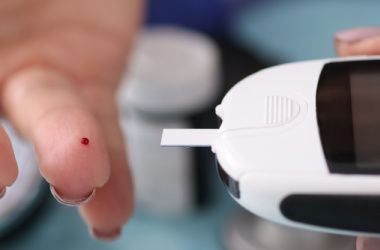 5. Use an alcohol pad to stop the bleeding by pushing it against the pierced skin and wait a few seconds for your glucometer to display the results.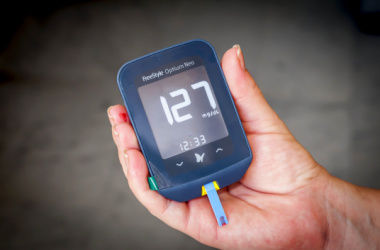 6. Record your results as it will make it easier for your doctor to create a suitable treatment plan. You can either note down the readings in a notepad or sync your glucometer to your smartphone app to record the readings. Some devices also come with a feature that lets you store the readings on the device itself.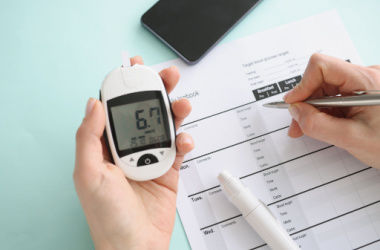 7. Carefully dispose of the used test strips and lancet.
How To Minimise Lancet Pain?
If you feel that using a glucometer is painful, then you can try out the following tips to minimise the pain:
Use a new lancet

: While it's essential to use a fresh lancet for hygiene purposes, that's not the only reason. Repeatedly using the same lancet can dull it, making the pokes more painful.

Change the lancet thickness

: You can try modifying the lancet thickness and see if it works better for you. For instance, a 30-gauge lancet may work better for you than a 21-gauge lancet.

Adjust the lancing device setting

: You can change the settings of your lancing device to make the poke less deep. Try setting it to a 2 or 3 and work your way up to a setting that provides a good-size sample with minimal pain.

Alternate positions

: Keep changing the location of the pokes. Use the right side of a finger once then switch to the left side before moving on to another finger and so on. This will give a spot time to heal before you poke it again.
Using a glucometer is quite easy. You can always ask your healthcare provider for advice if you feel like something isn't working right for you. Just make sure to follow the instructions given by your doctor regarding the frequency and timings of blood sugar checks. If you have more questions,
Consult Apollo's Expert Diabetologists
Medically reviewed by Dr Sonia Bhatt.
Services
Buy Apollo Products

Online Consultations

Order Online Test
Diabetes Management
Leave Comment